Music and lifestyle festival
31 Aout au 2 Septembre 2007
Sound opening 21h30 Friday closing at 15h sunday (non stop)

2Stages, Vjs, shops, conferences, fireshow
Trance, psytrance, Progressive, electro, minimal, ambient, world music

Main stage Lives
Gaudi (Interchill rec) UK
Kox box (Twisted-Solstice) Denmark/Ibiza
Antix (Iboga rec) New zealand
Fractal glider (Psy harmonics) Australia
Sun Control Species (Iboga rec) Australia
Polaris (Neurobiotic) Fr
Rastaliens (Phare Psyde) Ger
Principle Of Flight (Boom rec) Fr
Illegales machine (Doof rec) Fr
Jaws Underground (pete the moon) Fr
Lunaspice (Echoes rec) Fr

Main stage DJs
Sebastian Krüger (SBK-Avalanches rec) Austria
Edoardo (Neurobiotic rec) Italia
D-Nox (Sprout-Electribe) Ger
Liquid Ross (Liquid rec) Uk
Frank-E (Kox box) Denmark
Nadi (Domo-Ear peaks) Israel
Schwa (Beef-tribal visions) CZ
Ziv (Ketamind-Doof rec) Israel
Tajmahal (Electrik dreams rec) Fr
Misstick (Fat form rec) Fr
Toto (world people) Fr
Naya (mahogany) Fr
Dyno (Body & Mind) Fr

Chillout/Alternative stage
Wave Spell (Ambio / Sacred tree portal) "live"
Squazoid (Sony music) "live" special visual & sound experience
Kick Bong (Chill code music)
Natas (Prime time - Fat form rec)
Solead music[/b] dj team (Charles, Vincent, Guet)
Sheera (Candyflip - Slik't) Brazil
Kakoo (Fat form rec)
Tokyoeye (Paris)
Holls (Fonktion)
+ special guest !!!

Conference
Visual & Art by Jackob Hronek (www.teknological.tk)

Vjs
Bocal-F (www.bocal-f.com)
Teknological (www.teknological.tk)
Motion Mandala (paris)

Accreditation stands
stand@aqua-veda.com
Avant le 15 aout 2007

Plan d'acces
Comme tous les ans mais pour la derniere fois nous vous donnons rendez vous Ó
"La ferme de boulogne" a tour en sologne (41), region centre. 2h de paris par A6/A10
Clicker ici pour afficher la carte
We are very happy to welcome you for the last time at "la ferme de boulogne", Tour en sologne, France
Click here to get the map
Mappy road map direction click here

Shuttle/Navettes
Shuttle bus will be availlable from BLOIS train station to Arcadia festival site, please send your name and details at this address : bus-AT-aqua-veda.com
Des navettes seront mises en place à partir de la gare de BLOIS pour rejoindre le site du festival, merci de reserver a cette adresse: bus-AT-aqua-veda.com

Arcadia shuttle schedule / Horaires navettes Arcadia
click here
photo du site / Picture of the site: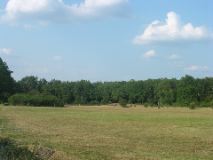 .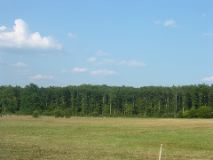 .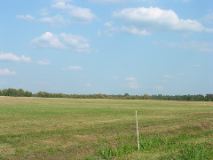 Infos complementaires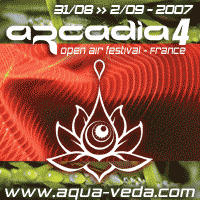 FORUM BOARD
Tickets
presales full weekend
until 25 august 35€ +loc+waste deposit
from 26 august & at the gate 40€+loc+waste deposit

Saturday at the door (from 12h am): 25€+5€ waste deposite per car.

buy your ticket on internet at:



http://www.accessallareas.org/
OR


http://www.fnac.com


shops:
-techno import(Paris)
-planet claire (orleans)
FNAC BILLETTERIE : Fnac, Carrefour, Géant
Réservation tél : 0 892 68 36 22 (0.34 € TTC)


preventes:

weekend complet
(ouverture des portes vendredi 18h)
(ouverture du son le vendredi à 22h, cloture dimanche 12h)

FNAC BILLETTERIE : Fnac, Carrefour, Géant
www.fnac.com - Réservation tél : 0 892 68 36 22 (0.34 € TTC)


http://www.fnac.com

Ou



http://www.accessallareas.org/

Shop:
-techno import(Paris)
-planet claire (orleans)

jusqu'au 25 aout 35€ +loc
Du 25 aout et sur place 40€ +loc
(+5€ consigne poubelle par sac, à hauteur de 2 sac maximum par voiture*)

Samedi sur place (à partir de 12h): 25€ (+5€ par voiture pour consigne poubelle*)

*explication consigne poubelles :

Ěles 5€ vous serons rendu lors du retour du sac poubelle fourni a l'entrée, rendu plein.
Ěle talon de votre billet d'entrée est necessaire pour cette action.
Ěrdv a la porte pres du gros container, permanence le dimanche de 8h à 15h

respecte la nature, elle te le rendra.
Waste deposit notice:
5 Euro deposit will be asked at your entrance for a rubbish bag then be given back when you bring back this rubbish bag full + your entrance ticket. ( two bags maximum per car will be asked)
refund sunday 8h to 15h at the gate near the big container.
respect nature, don't waste it!!!

Showers & organic toilets will be on site, please don't use commercial soap, or non recycled toilets paper, some organic soap, shampoo and tooth paste will be given for free at the showers, and recycled toilets paper will be available. (please don't litter the forest with paper!!!)

All the forest around the site is a wild life sanctuary please don't go there, don't throw anything, respect nature...

The deposit system will be used at the bar, every drinks will be 50 euro cents more then refunded when u bring back the glass.

Choses a ne pas oublier :
Tente, equipement de camping, sac de couchage, torche electrique, vetements frais & chaud, creme solaire.
Mais surtout de la bonne humeur et des goods vibes...

Des douches biologiques seront dispo sur le site, merci de ne pas utiliser de savon polluants, car du savon, shampooing et dentifrice organiques seront en libre service gratuitement (utilisez les la nature vous le rendra).
Des toilettes organiques seront specialement conçus, merci de ne pas utiliser de PQ non recyclé ou blanchi au chlore, du papier adapté sera fourni.

La foret entourant le site, est une zone protégée, sous la responsabilité de l'ONF, merci de nous aider a la preserver.
Le systeme des consignes sera employé au bar, chaque boisson sera majoré de 50 centimes d'euros remboursés lors de la remise de votre verre au comptoir.

Pour des raisons evidentes de securité, les bouteilles en verre ne sont pas acceptées sur le site, pas de groupes electrogenes, pas de sound system dans le camping, pas de chiens, pas de drogues, strict but nice security.


Things to bring:
Tent, camping gear, sleeping bag, flash light, warm & fresh clothing, sun screen.
Most of all - Positive energy and friends

For security reason, glass bottles are not allowed on site, no generators, no sound system, no dogs, no drugs, no credit card at the gate. Straight but nice security.

please be respectfull...gaia is our mother.
Need more info ?... go to our FORUM BOARD